2020 has changed the wedding industry (and everything else!) dramatically. Here are the 2020 wedding trends that have become a popular way for couples to plan their wedding during COVID-19.
In times of uncertainty, it's difficult to plan a way to get married without risking the health & safety of others. Some brides and grooms choose to reschedule their wedding day with hopes to host the same amount of guests that were originally invited. Others are getting married on their original date, without the guest list. Still, other brides and grooms are moving forward with the original wedding date while making some changes to accommodate health & safety guidelines. Not all happy couples are willing to wait an undetermined amount of time to see when it's safe to host a crowd again. So if you're looking for how to get married this year, check out Wedivite's 2020 wedding trends.
2020 Wedding Trends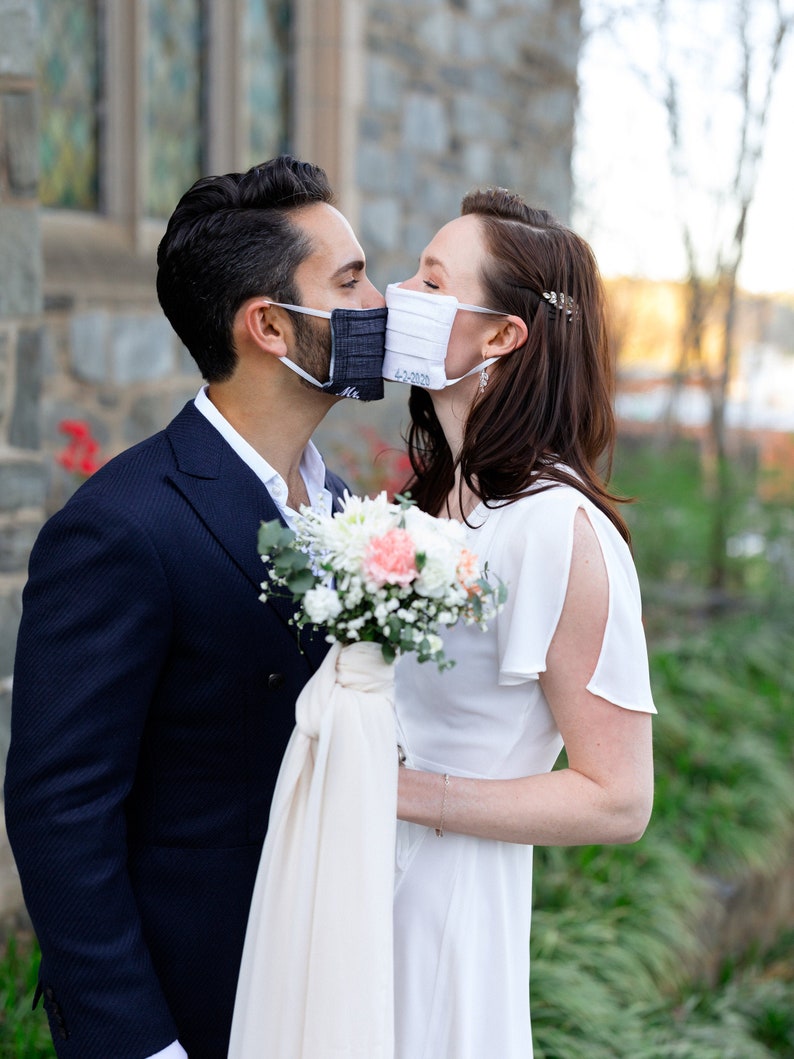 Wedding Masks For The Bride & Groom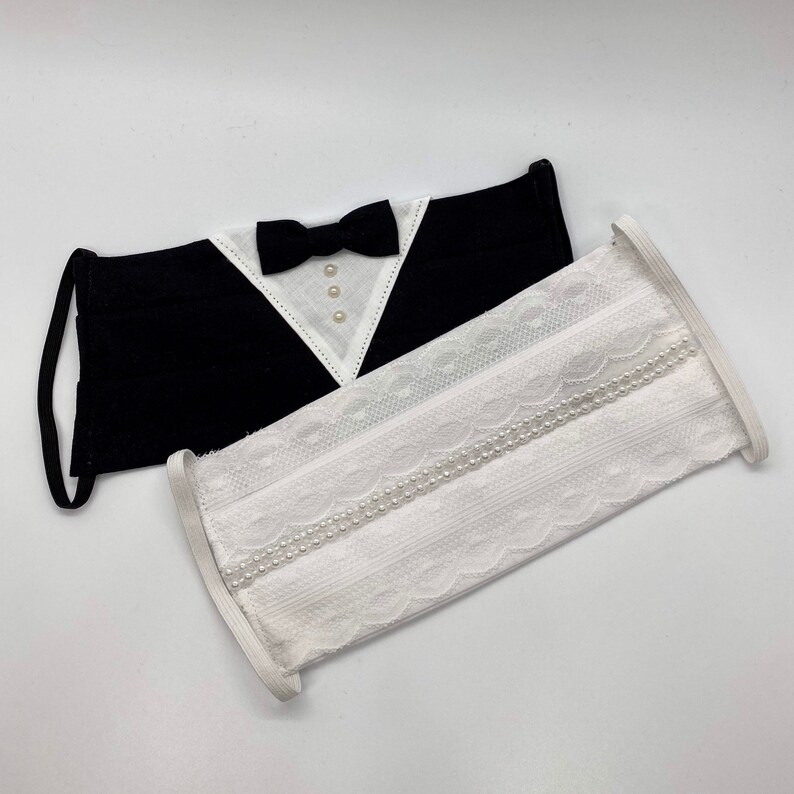 The biggest 2020 wedding trend that nobody saw coming…wedding masks. Or masks of any sort, really. I think it's safe to say that no bride envisions walking down the aisle with a pandemic mask covering her face! However, if it's necessary to keep others safe, you might as well look cute and have it match the wedding dress! Plus, these Etsy masks give the perfect opportunity for some killer eye makeup (see here for details!).
Another idea for wedding masks is to give them out to wedding guests as favors! A mask is a wedding favor that your guests will actually use. Etsy has options for customized masks. Consider adding the wedding date, your new last name, or your wedding hashtag on them. Click here to see the search results for wedding masks on Etsy.
2020 Wedding Trends: The Drive-Through Wedding Reception
In addition to wearing a mask, another 2020 wedding trend is the drive-through wedding reception. Drive-through celebrations started as a way for children to celebrate their birthdays while the Stay At Home order was in effect. And then the idea turned viral for brides and grooms, too! Instead of waiting, engaged couples can follow this up-and-coming wedding trend and have a drive-through wedding ceremony! The happy couple then celebrates their new marriage while a parade of family and friends wave and beep from their cars.
For example, one couple whose wedding was impacted is Kelly Donohue and Andrew Scheurlein. They had plans for a June 5th wedding with 250 guests, before the effects of COVID-19 ruined their plans. After realizing that their dream wedding wasn't going to happen, they ditched it all and married on April 5th. All in the bride's parents' driveway! According to Newsday, the couple married as family and friends watched from a respectable safe distance. Afterwards, the guests danced from the sunroofs in their cars. The best part is that the bride's grandparents live next door and were able to attend the ceremony in the comfort of their own lawn chairs in their front yard!
Although it may not be what the couple had in mind, they started a 2020 wedding trend that's sure to be followed by other couples who are eager to wed.
2020 Wedding Trends: Tie The Knot With A Courthouse Wedding
One option to get married in 2020 is the traditional courthouse wedding. With states easing restrictions, most courthouses are back open for weddings. It doesn't get much simpler than this! Just check the guidelines in your county to see what documents you need. Keep in mind that there may be a limit on how many people can attend.
There aren't many rules when it comes to courthouse weddings. Brides can still wear the big, beautiful white dress that they envision. (Or an alternative wedding dress for 2020 is a great idea, instead!)
Get Some Fresh Air With An Outdoor Ceremony in 2020
If you're lucky enough to live close to a beach or park, keep your wedding simple and head outside to tie the knot. It's easier to keep social distancing guidelines, and your guests can still be there to witness your special day. But, we always recommend sticking to CDC Guidelines!
Miguel Delgado and Johana Patricia set a 2020 wedding trend of their own when they got married on March 21, 2020. With their actual wedding plans postponed, the happy couple took matters into their own hands and held a quick ceremony on a public-access cliff. A few guests were in attendance, but the couple felt it was too risky to invite older and more at-risk relatives to the ceremony. Luckily, Miguel and Johana were able to live-stream their wedding for others to watch. They even wrote their own vows for the ceremony. Proof that love conquers all!
2020 Wedding Trends: The Rise Of The Backyard Wedding
Another couple who set a wedding trend of their own are Melissa Geustyn and Martin Schermers. The happy couple wed in the groom's grandfather's garden in South Africa; talk about a beautiful location!
A small, intimate backyard wedding is one 2020 wedding trend that we think will rise in popularity throughout the year. For complete details on how to plan your own backyard wedding, see Wedivite's Backyard Wedding Planning Checklist here.
Get Married At Home In 2020
One couple who isn't letting the coronavirus steal their wedding is Dayspring Cabaniss and Shane Walsh from Long Beach, California. They married in their home on March 17- just three days before their originally planned wedding date. Of course, there were a lot less guests in attendance. But, as Dayspring says on her Instagram, "It wasn't the plan but we're happy just the same!"
Brides and grooms, take note from the new Mr. & Mrs. Walsh and host your closest people for an at-home wedding! The Encore event can always be planned for the future.
Save The Date For An Encore Wedding
So what is an Encore wedding, exactly?
Well, just because you & your fiance made it official without an audience doesn't mean you can't have the wedding event that you dreamed of. It will just have to be postponed!
Let all of your friends and family know that a wedding reception is in the works and send out digital Save The Dates with Wedivite (did we mention it's free?!)